Description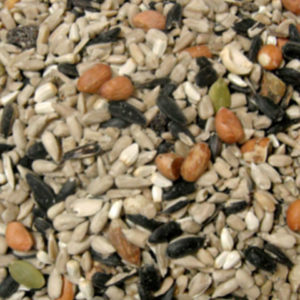 Attract the most desirable outdoor pets to your feeders. Mixed with all the Nuts & Berries birds love best.
Ingredients: Sunflower Kernels, Peanuts, Sunflower Seed, Safflower Seed, Hulled Pumpkin Seed, Dried Raisins, Dried Cranberries.
Attracts: Chickadees, and other arboreal birds, such as Nuthatches, Titmice, Grosbeaks and Woodpeckers.
Feeder Type: Chalet, Hopper, Bowl.
Sizes: 5, 10, and 18 lb.
This product is produced and stored in facilities that use tree nuts, wheat, peanuts, soybeans, milk, eggs, fish and crustacean shellfish and thus may contain one or more of these ingredients.